To hide comments on Facebook ads, you need to access the Facebook post and locate the comment you want to hide by scrolling down. Next, hover your mouse over the comment and click on the three dots situated on the right-hand side. Then, in the pop-up menu, click on the "Hide comment" option.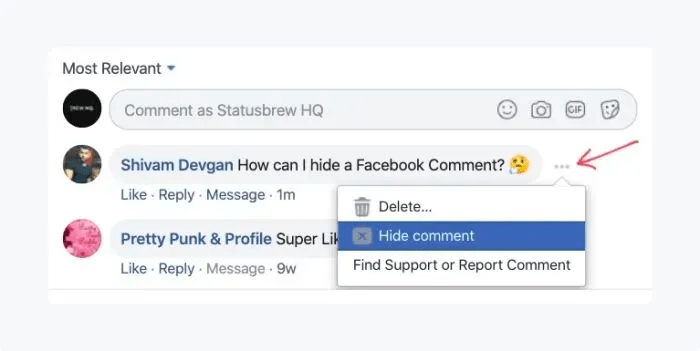 Nowadays, brands heavily depend on advertising their products on Facebook and Instagram. However, managing multiple profiles, running various ad campaigns, and receiving numerous comments on their ad posts can be challenging.
Brand managers often face difficulties when it comes to handling negative, spam, and user comments, leaving them unsure of what to do. In such cases, they search for ways to hide comments on Facebook ads.
Should brand managers ignore these comments, delete them, or opt to hide them on Facebook? This question remains unanswered.
Should You Hide Comments On Facebook Ads?
As a brand, it's essential to maintain control over the voice of your Facebook posts to convey your message effectively. However, in today's world, running ads often results in negative, spammy, and unnecessary comments taking up valuable comment space.
Hiding comments on Facebook can assist in managing ad posts in a more efficient manner. By eliminating spam and irrelevant comments, you can preserve the quality of your post. Later on, you can unhide and respond to relevant comments with a better answer, thereby enhancing your brand reputation.
Brands have reported up to a "269%" increase in positive user sentiment merely by removing or hiding harmful comments and distractions.
It's advisable to contemplate hiding comments of the following nature:
Spam – These comments contain links that could redirect users to websites with malware or viruses. Self-promotion – Frequently, individuals attempt to promote their own websites or apps in the comment section of ad posts.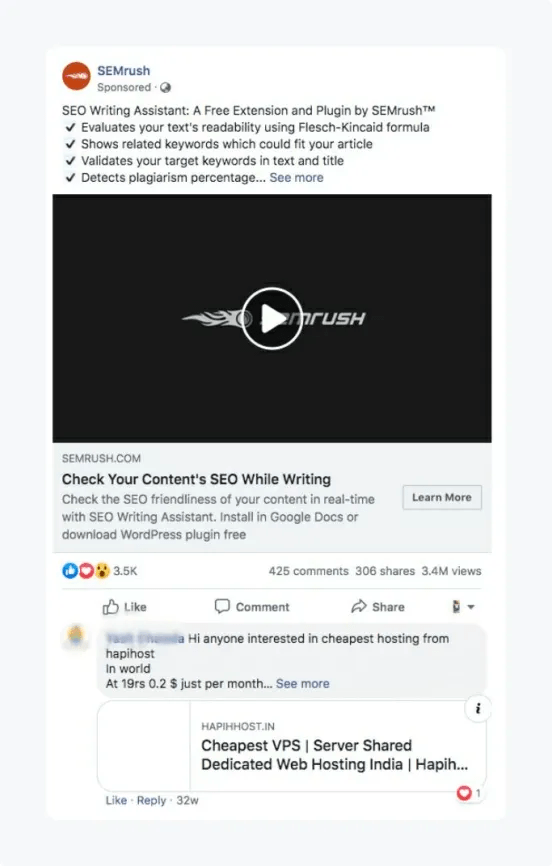 Comments containing inappropriate content or language should be hidden. This may include comments that are explicit, racist, homophobic, or sexist in nature.
Comments from trolls should also be hidden. Trolls are users who aim to defame or tarnish your brand's image by posting negative or provocative comments.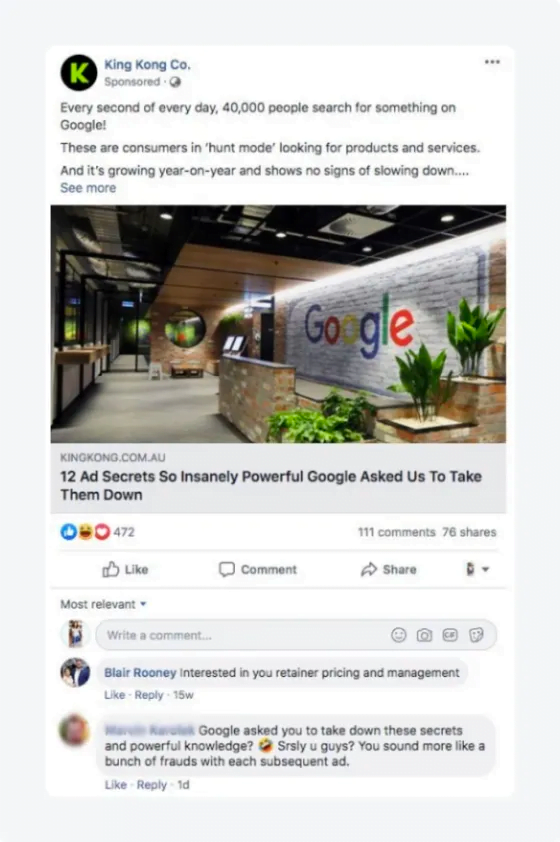 Choosing to ignore such comments can result in potential customers having a distorted and unfair perception of your brand, which could ultimately deter them from purchasing your products or services in the future.
Which Comments You Should Not Hide On Facebook?
Aside from the types of comments mentioned earlier, if you receive customer concerns or constructive feedback, hiding comments on Facebook may not be the most effective solution. Here are some alternative approaches:
Respond to Comments on Facebook Directly Instead of hiding comments right away, use this approach to respond to comments on Facebook.
Show Empathy Make an effort to comprehend the user's perspective. Ask pertinent questions to address their concerns.
Acknowledge that the customer's concerns are valid and worthy of attention. Let them know that their concerns have been heard.
Humanize Remember that there is a person on the other side. Try to make the interaction as personal as possible.
How To Hide Comments On Facebook Ads?
If you wish to manage the tone of your Facebook ad posts, you can decide to hide comments on Facebook by following these steps:
Hiding Comments on Facebook These are the steps to hide a comment on Facebook:
Open the Facebook post and find the comment you wish to hide.
Hover your mouse over the comment and select the three dots on the right.
In the pop-up card, choose the Hide comment option.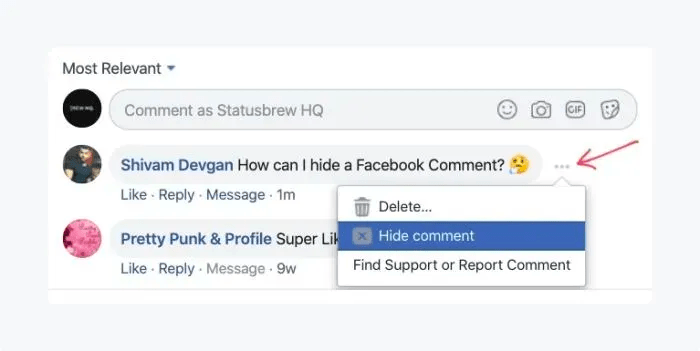 You may be curious about what occurs when you hide a comment on Facebook. When you hide a comment on Facebook, it is hidden from the public, but the user who posted it will not be notified. However, if you frequently hide legitimate comments, both the user and your audience may become aware of it, so use caution.
Additionally, while Facebook sends notifications for activity on your Facebook page and profile (including comments on all of your posts), comments on ads are not considered activity, so you will not receive any notifications. You must manually review and hide comments on your ad posts by visiting the ads manager.
Hiding Comments on Facebook in Ads Manager

To hide comments on Facebook ads, follow these steps:
Go to the Ads Manager and navigate to the ad level, then select the box next to the desired ad.
Click "Edit" (located under the ad name) to open the side panel.
On the right-hand side of the ad preview, click the arrow to access the drop-down menu.
Under "See Post," select the Facebook post with the comments.
Locate the comment you want to hide and click the three dots next to it.
Select "Hide Comment."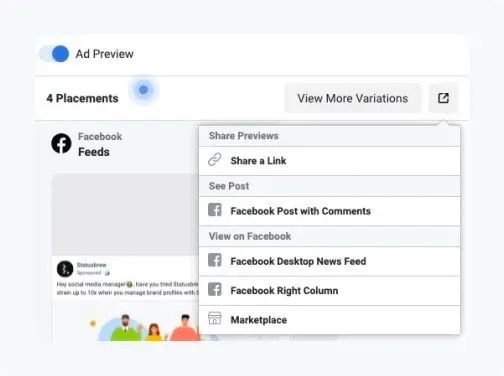 How to disable comments on Facebook posts and ads?
Although turning off comments on Facebook group posts is straightforward, it can be challenging to do the same for page posts and ads. Facebook does not offer an option to disable comments on these posts and ads. However, there are two workarounds to achieve this goal.
Using Facebook Moderation to Turn Off Comments Note that this method disables comments on all your Facebook posts and ads at once. You can add symbols and specific words to the forbidden keyword list in your Facebook page settings under General > Page Moderation. This will hide all incoming comments on your posts and ads.
If you want to disable comments on specific posts or ads while keeping engagement active on other content, you can use the next method.
Using Statusbrew to Turn Off Comments on Facebook With Statusbrew, you can use the Rule Engine feature to turn off comments on a particular post or ad. Here are the steps:
Go to the Rule Engine and create a new rule.
Name the rule and select a Facebook profile connected to Statusbrew.
Set the condition to "Post is" and the action to "Hide all Comments."
Save the rule, and you're done.
Using this rule, comments on selected Facebook posts and ads will be turned off, while engagement on other posts will continue.
How To Hide Comments On Instagram Ads?
Eliminating irrelevant comments is crucial to focus on responding to the ones that are relevant to your ad post and brand. This raises the question of whether it's possible to hide comments on Instagram posts and ads.
Fortunately, Instagram offers the option to hide comments on Instagram ad posts. Here are the steps to hide comments on Instagram ads using Ads Manager:
Access the ads manager after linking your ad account.
Click on "Edit Campaign" beside the campaign that has the Instagram ad you want to view.
Click on "Ads" and then choose "Manage Instagram comments" from the links drop-down menu.
You'll see the comments section with your Instagram ads on the right.
To hide or unhide a comment, click on the downward-pointing arrow next to the comment and select "Hide comment" or "Unhide comment" from the drop-down menu.
To add or delete a comment, type your comment in the "Add a comment" field or click on the same arrow next to your comment and choose "Delete comment" from the drop-down menu.
However, Instagram doesn't provide a manual way to hide comments on Instagram page posts. One can still hide certain comments on Instagram page posts by following these steps:
Go to the comment section of your page posts.
Tap and hold the comment (Android) or swipe left over the comment (iPhone).
Tap on the icon and select "Restrict (username)".
After restricting a user, a pop-up will notify you that only you and the user you've restricted can see new comments on your posts.
However, restricting comments manually isn't practical if you're managing comments at scale. For this, we've written a comprehensive blog post with actionable insights on how to hide Instagram comments, disable comments on Instagram, and more. Also, you can learn about how to hide likes on Instagram.
Can You Delete Comments From FB Ads & Instagram Ads?
After learning how to hide comments on Facebook & Instagram ads, you may wonder whether you can delete comments from these ads and, if so, which comments you should hide and delete.
While it is important to maintain credibility and trustworthiness, deleting every negative comment on your ad may not be the best approach. It is unrealistic to think that every customer will always be happy, and deleting all negative comments may make it appear that you do not take customer service seriously. Therefore, it is essential to carefully consider which comments to delete and which ones to leave alone.
As a general rule, you can safely delete comments that are objectively irrelevant, unreasonable, or harmful, such as spam, self-promotional comments, comments with inappropriate language or content, and blatant trolling.