After the 2018 Cambridge Analytica scandal, Facebook has been working hard to address security and privacy issues, and enhance existing tools. With the upcoming European Parliament Elections, Facebook has significantly modified how political ads are showcased on its platform. One of the recent changes includes the "Why am I seeing this" feature, which enables users to learn about how brands obtained their contact information. This feature provides a higher level of transparency, allowing users to comprehend better how Facebook advertising operates. Learn more about the latest changes in Facebook's Ads Library.
Changes for advertisers
In order to prevent potential abuse, Facebook has implemented a policy requiring all EU advertisers to be authorized in their respective countries before running ads related to the European Parliamentary Elections. The authorization process involves submitting documents and undergoing technical checks to verify identity and location. While Facebook acknowledges that some individuals may attempt to bypass the system, the combination of automated systems and user reporting is expected to be a significant deterrent for those seeking to interfere in elections outside their country. Richard Allan, VP Global Policy Solutions at Facebook, expressed confidence in the effectiveness of this measure.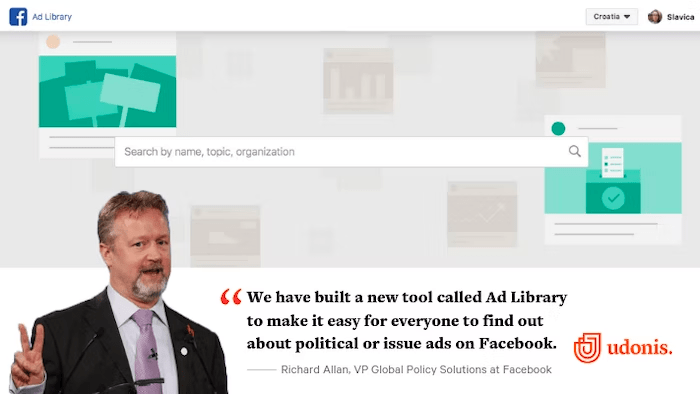 Facebook Ads Library

Facebook Launches New Ads Library for Political Campaigns and Advertisers
In response to public concern regarding transparency in political advertising, Facebook has created a new and updated Facebook Ads Library. This tool will not only benefit election regulators but also anyone conducting market or competitor research. The library will keep political ads for 7 years and provide information on the ad's demographics and a number of views.
To ensure transparency, new restrictions will require advertisers to disclose who paid for the ad. Advertisers in the EU27 will be able to register for verification, with verification becoming mandatory in mid-April. All political ads in the EU will be accessible in the Ad Library, with this information also available under the new "Page Transparency" section in Pages' homes.
To prevent abuse and interference in the upcoming European Parliamentary Elections, all EU advertisers must be authorized in their country before running related ads. Advertisers will be subject to identity and location verification using automated systems and user reporting. Daily updates to the Facebook Ads Library will be implemented to improve the platform's transparency.
Why Should You Care About Facebook's Ad Library Update?
If you're not planning to run political ads in the EU region, you may think that Facebook's updated Ad Library is irrelevant.
However, this tool provides access to all active ads, including those that may not have been targeted to you. Therefore, the updated Ad Library can be valuable for market research or understanding your competitors' advertising strategies.
In March 2019, Facebook introduced the updated Ad Library to improve transparency by providing users with information about all the ads and Pages that run them.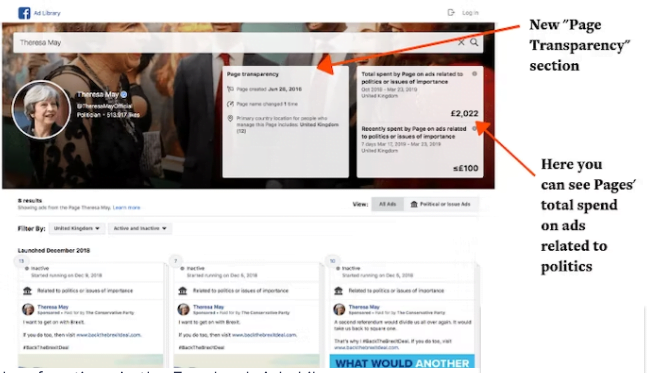 Facebook Ads Library includes:
The enhanced Facebook Ads Library provides several valuable features such as the option to view all the active ads of any Page, more comprehensive information about Pages, advertiser spending details for political ads, improved search functionality, and the ability to report ads from within the library.
In addition, the updated Ads Library allows users to access specific details about each ad, including potential reach metrics, which are based on ad placement and targeting options. This valuable feature enables users to sort ads by potential influence and better understand campaign performance.
The potential reach metric is subject to change over time and can be influenced by factors such as budget and ad performance. Furthermore, users can learn more about Pages, including when they were created, any name changes, and the primary locations of Page's managers.
Using Facebook Ads Library for User Acquisition
To become proficient in the user acquisition process, the first step is to have a comprehensive knowledge of your audience. Being aware of your potential users and comprehending what they require from your app or game is the key to acquiring users on a large scale. Initiating a user acquisition campaign without knowing your target audience is not user acquisition, but rather, it's akin to gambling.
However, I understand that this may not be a straightforward or clear-cut concept, particularly for those without a marketing background. Therefore, I will provide you with a quick and easy way to jumpstart your learning process.
The fastest approach to achieve this is through competitor research.
Competitor research
Each person in the business, whether a developer, marketer, or studio owner, has companies that they admire. In the hyper-casual space, Voodoo, Ketchapp, Lion, TastyPill, and GoodJob Games are well-known, while in casual, King and Zynga are popular. The list of market leaders will differ for every app store category, but every category has them.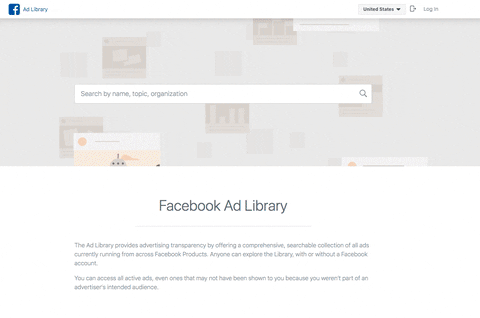 In essence, these market leaders are your primary competitors. While you cannot compete with their funding, resources, or relationships, you can investigate their practices since they work. The Facebook Ads Library provides insight into your competition's best practices.
The first step in competitor research is identifying your competitors. After that, look for their ads and collect valuable information. Use filters to get more specific insights, such as sorting the competitors' ads by country, impression recency, and ad platform. After that, collect valuable information from their ads.
The most valuable insights you can gather from competitor research in the Facebook Ads Library include:
Which ads have the most impressions
What ad formats are they using
Are they running A/B tests
How are they communicating with their target audience
Which ads have been running the longest
Which trends are they embracing
Additionally, examine your competitors' funnels. Click on their ads to see where they lead and consider what distinguishes their landing pages from yours and what features they include.
With all of this information in hand, you will be able to create more competitive and better-targeted ads for your campaigns.
In Summary
Facebook has implemented numerous updates to improve its reputation following the Cambridge Analytica scandal in 2018 and criticism after the US presidential elections. Although these changes are primarily linked to the upcoming European Parliamentary elections, anyone who creates Facebook ads or wishes to gain a deeper understanding of online ads will benefit from these updates.